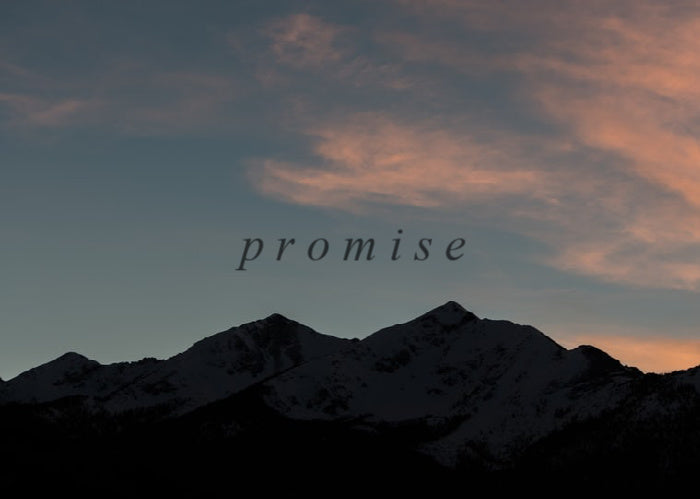 It's impossible to have faith if you're not aware of the promises of God for the situation you're praying for. You are able to keep believing when you know what He has promised, and trust that He does what He says He would do. Today, there's an invitation for you to meet the God of Promise like never before. 
Finding the God of Promise 
Growing up, I was sure that God was more concerned with what I was doing wrong than what I was doing right.  He had more rules than grace, and more bad news than good news.  He was more concerned with my past than my future.  Or so I believed.  
I didn't want to look for the God of Promise, because I was scared of this God that I envisioned. I could only see Him through the lens of fear.  I grew up strangled by religion, and without a personal knowledge and relationship with a loving heavenly Father.    
So when a friend told me of His promises that were throughout His word, I first felt confused. I thought through the Minor Prophets, the Major Prophets, the books of the Law, the Gospels, the Pauline Epistles, and I couldn't remember a section of the Bible where God's promises were outlined. But my friend planted a seed of curiosity in my heart. I went on a journey to find them.  And on the journey, I found Him.  
Promises in His Word 
I found a God who wants to give me the desires of my heart, as I delight in Him (Psalm 37.4). I found a God who told me that if I sought Him with my whole heart that I could find Him (Jeremiah 29.13).  I learned that His mercies are new every morning and that His steadfast love never ceases (Lamentations 3.22-23).  I found a God that wanted to give me immeasurably more than I could ask or think (Ephesians 3.20).  
And bit by bit my ideas about this God I thought I knew began to crumble.  
I was learning experientially that if God was for me, who could really be against me? (Romans 8.31).  I was learning  that Jesus came so that I could have abundant life (John 10.10).  I was meeting a very personal Father that knew me before the foundation of the world and wanted to champion me forward into all that I was called to be.  
Holding on to the Life Raft 
Some of God's promises are a quiet reminder in a long, dark season.  Others are a life raft on a turbulent sea, one of the only things speaking life to your heart.  And still others are the reason that you get back up again after being knocked down so many times.  His promises to us keep us afloat, sustain us, breathe life into us when we feel dead.   
Promise for your Prayer
Do you know the promise that's attached to your prayers? Here are some promises in His word for the major areas of life that we are contending for:  
Financial Breakthrough - Job 42: 10-16, Proverbs 13:22 
Family Restoration - Joel 2: 25-26, Matthew 19: 26, Proverbs 19: 21
Prodigal Returning Home - Proverbs 22:6
Healing - Psalm 103: 3, Isaiah 53:5
Finding a spouse - Genesis 2:18, 2 Peter 3:9, Matthew 7:7, Psalm 37:4
Having children - Genesis 1:28, John 15: 7-8
Making a big life decision - Proverbs 3: 5-6
Besides the truth in His Word, the God of Promise also lets Himself be found in personal prophetic words. These always need to align with Scripture, they simply make the promises in His Word personally applicable to your specific situation. You receive these either in our own devotional time or through a friend or trusted leader. 
Waiting for the Fulfillment
In the seasons of waiting, and in the hard times of wondering when our promise will be fulfilled, may we be encouraged because 'He who promised is faithful' (Hebrews 10.23).  He hasn't uttered a word except truth.  He alone can fulfill the promise He gave to you.  His words do not return empty (Isaiah 55.11).  It took twenty five  years for God to fulfill the promise of a child that he gave to Abraham and Sarah, but He did.  It took fifteen years for David to become king after he was anointed, but he did.  His timeline doesn't always look like ours, but He provides the comfort and grace to sustain you in the meantime. 
He has not forgotten about the promise that He gave to you, and every single one of them is true.  No matter how many promises He has made, each one is 'Yes' and 'Amen' in Christ (2 Corinthians 1.20). 
Feed your Faith
Feed your faith by reminding yourself frequently of the personal promises and the Scriptures about your situation. Choose today to partner with promise and let His word shape your expectations.  
Partner with His promises and declare that you will choose to believe Him. His promises are your anthem! 
May you be comforted in the waiting, and strengthened by believing Him.  Your faith in His word pleases Him more than you know.   
©2018 All Rights Reserved
Written by Anne E. Ballard